Your Puppy Is On The Way
We will notify you the moment a pup arrives for you to consider. Our Wait List is generally 1 to 6 people at any given time. It does go quicker than you think!
Generally, for regular and small size pups the wait is between 3 to 14 weeks. We try to stage our litters so that we have puppies in reasonable intervals. So, it won't be long before you choose your sweet new pup. The wait is mostly for your pup to mature enough to go home with you.
You will be notified by email and phone if you like and given 24 hours to choose a puppy from a litter once invited to choose. If you don't choose a pup in that time, we move to the next person on the list. And so on.
Once a pup is chosen you pay half of the expected amount of sale and you are on your way! We accept cash, PayPal, credit cards and debit cards. So, payments are made easy for you.
The moment a pup or litter of pups is for sale, we let you know. Nursery puppies and new litters are available to Waitlist people first.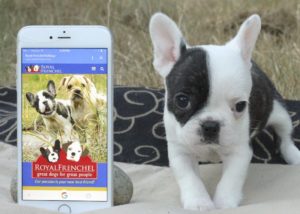 Just press the button below, pay the $300 Wait List fee and you will be put on the list. Of course, the $300 is applied toward the purchase price of any pup you choose. This Wait List Fee is a non-refundable payment which will be applied to any dog of your choice from Royal Frenchel during the life of Royal Frenchel Kennel. We don't give refunds of any kind (see refund note above).
We look forward to getting to know you. Please fill out the contact form and introduce yourself to us.
We look forward to helping you to find your Royal Frenchel family member! Royal Frenchel Bulldogs are amazing companions and once you have one, you will never be without! Check out their traits again after you secure your place in line and enjoy thinking about your new life with your upcoming Royal! They are so "easy peasy"!
Getting to Know You ~ Talking Points!
Our first priority is that you are deeply satisfied and that our puppies live full and happy lives in a home with people who love them. We try our best to place puppies with matching personalities to the families they are to become part of. You might want to read this article on "Who Buys a Royal Frenchel Bulldog". It is so interesting to see the "type" of person that is so linked to these dogs.
These questions help us consider you and your pup from all angles and allow us to help you choose the right pup for your family.
Royal Frenchel lines have special attributes and are good for certain lifestyles. So, getting to know the lifestyle the pup will enter into with you will make that transition and lifetime with the dog so much better.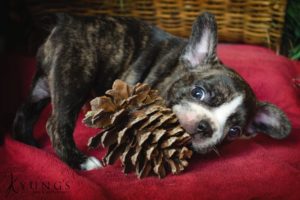 First, what are your name, phone, and email address?
What do you know about Royal Frenchels? Have you ever met one?
Who else is in your household? Their ages? Special Needs?
What are the attributes you are most looking for in your new pup?
Do you have any other dogs or other animals and if so, what types and ages, neutered or spayed?
Do you have any children? What are their ages? How used to dogs are they?
Where and how would your puppy spend his or her time days/nights?Is someone home during the day at your house? Please describe the living situation for the puppy. How many hours daily would the dog be left alone? If no one is at home during the days would you plan for someone to come into your home to let the puppy in and out during the potty training stage? (A Doggy daycare if run properly can be an excellent choice for working new puppy parents as well.)
Is there a particular look you enjoy? The color of puppy preferred? Size? Also, name the puppy on the website that you are most interested in.